Being a new employee is a lot like being the new kid at school. One of the first things you suss out is the difference between expectations and reality. Sometimes the gap is pretty disappointing.
Other times, there isn't a gap at all -- in fact, reality exceeds your expectations! This is the pleasant situation I've found myself in here at Sonatype. I'm constantly impressed by the work ethic, smarts, and damn determination of my peers.
Turns out, I'm not the only one who sees that what we're doing here is special. Sonatype continues to receive accolades … most recently we were named a FastCompany Top Workplace for Innovators, a Washington Post Top Workplace, and received a solid Inc. 5000 ranking.
Fast Company: A Best Workplace for Innovators
FastCompany named Sonatype as a Top 50 workplace "where innovation isn't just a buzzword but a part of the value system and culture".
As they write,
Many companies tout their creative chops as a way to attract scarce talent, but not all deliver. "People are going to go where they feel innovation is valued," [says Paul Daugherty, chief technology and innovation officer at Accenture, one of the panel's judges.]
Sonatype recruits creative employees. Our self-directed scheduling and ability to pursue independent projects truly delivers a culture where innovators are welcomed and encouraged. To this end, we've designated "improvement days" that take place biweekly, where employees can explore and tinker. Over the last year, the team has worked on more than 500 projects as part of the program. (This is how our Chrome extension was developed, for example.)
Inc. 5000 Fastest Growing Companies
For the third year in a row, Sonatype landed on Inc.'s 2019 list of fastest growing companies in America - ranked 1705, we jumped nearly 200 spots from our already great distinction in 2018 with an incredible 239% growth in revenue during the period reviewed.
The Inc. 5000 has become one of the most prestigious rankings of growing companies. And, as Inc. points out, "the list represents a unique look at the most successful companies within the American economy's most dynamic segment." I can confidently speak for everyone here at Sonatype when I say, it's an honor to be on this list with such great company for the third year in a row.
Washington Post Top Workplaces, 2019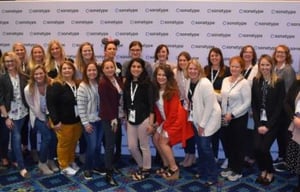 The nod from WaPo didn't come as surprise to me! That's because the award was driven by employees. As the new kid I saw my peer's enthusiasm right away. Invitations ranged from lunch to joining our #women-at-sonatype Slack channel.
Sonatype ranked #6 in the "Small Company" category in employee-scored rankings by the Washington Post.
Writes the Post:
"This fast-growing cybersecurity company helps organizations evaluate open-source software for vulnerabilities. [...] The company's corporate culture is one that prizes flexibility. Most of the employees work remotely. And a company-wide policy gives employees time to work on new ideas, skills or projects they think are important."
You're probably seeing a theme - we value innovation, creativity and we believe in giving employees the time to explore these.
Cybersecurity Impact Award
Sonatype also won recognition in the "Large Company" category in the inaugural Cybersecurity Impact Awards sponsored by CYBERTACOs ("Stay Crunchy"). CYBERTACOS is "dedicated to recognizing companies that have corporate or Federal headquarters in D.C., Maryland and Virginia for their leadership and innovation within the cybersecurity industry."
Yes, 🌮🌮 were served at the ceremony.
Did I get to go? No; I was busy attending our Product Meetup in Raleigh, North Carolina. This annual meetup brings the engineering teams together in person to discuss product enhancements and iterate new features. While we are a remote, distributed team, we also know there's value to in-person conversations. Each year, we make it a priority to get teams together at various points to create additional bonds and work-through key problems.
Top Tech 10 2019
Next, I introduced myself to our CEO. I'm glad I did because I anticipate learning a lot by observing how he steers management.
Not too long ago, The Baltimore Business Journal also ranked our CEO, Wayne Jackson, as a Tech 10 honoree building the next chapter in Greater Baltimore's tech scene.
From the profile:
Today, Sonatype has more than 1,000 clients, spanning from banks and insurers to manufacturers and energy companies. The firm's annual revenue is over $50 million, Jackson said, and growing at a rate of 40% to 50%. The company generated positive cash flow for the first time in 2018, he said. Sonatype is working with an advisory firm to do an analysis of the needed steps in filing for an IPO, Jackson said, but he cautioned it depends on market conditions.

The company employs over 300 workers across the world, and Jackson expects that number to reach 400 by year's end. Outside of Fulton, it has offices in London, Singapore and Sydney, as well as a recruiting center in South America.

For Jackson, many of his success stories start and finish with the role he's helping to play in putting Maryland's tech scene on the map.

"I show up in Sydney and people know [of Sonatype]," he said of a recent visit to Australia. "You know, this little Maryland company."
2019 Emerging Growth Company of the Year
Around the time of this award I got nervous. Was I bragging too much about my new job on LinkedIn (sorry/not sorry!)? And rightly so: Sonatype continued bringing home the bagels, as they say.
The National Capital Chapter of the Association for Corporate Growth (ACG) awarded Sonatype as the "Emerging Growth Company of the Year".
ACG National Capital, the region's preeminent association for corporate professionals involved in middle-market growth, corporate development and M&A, recognized the region's biggest deals, top executives and fastest growing companies in the Washington, D.C. region.
2019 SD Times 100: 'Best in Show' in Software Development
Fine, I thought. I'll tone down the social media updates. Then Sonatype got another accolade. Just one more update, I thought, #SonatypeLife.
Sonatype snagged a 'Best in Show' in the Security category of Software Development Times 100, too.
SD Times describes the honor using birds as an analogy:
The 2019 SD Times 100 recognizes those companies and organizations that are the leaders, innovators and influencers in the software development market. They have flown ahead of the flock with new, innovative projects or by establishing leadership positions, or by influencing how and what we create.

This year's list sees many of the mature companies coming back to roost, but also includes a few fledglings that are just learning to fly on their own. This is reflective of the fact that software development does not stand still. New methodologies, architectures and paradigms are emerging, and the SD Times 100 companies are at the point of the flying V, leading the way for the rest to follow.
Did I mention we're hiring? If you found yourself reading through this saying "wow, sounds like a great place to work," then, you're in luck. We're hiring across the organizations at many different levels. Take a look at open positions and reach out with any questions!